The Red Hot Chili Peppers have been working on their follow-up album to Stadium Arcadium for the last seven months. Their new album is due to be released in October or November. The odds favor the fact that the group will be performing in Las Vegas before the end of December 2010.
75 RHCP Videos Are Down Below!
Why are the Red Hot Chili Peppers the subject of today's blog? Well. The true reason is that they are my favorite band and I just felt like blogging about something other than 100% Vegas stuff for one day.
If it seems strange that the RHCPs are a 58 year old man's favorite group - I really can't blame you for wondering why. I have other favorite musicians more reflective of my generation such as the The Beatles, Bob Dylan, The Doors, Van Morrison and U2. They are all great, in their own way.
It's just that, in this Year of the Dog called 2010, the Psychedelic-Surf-Punk-Hippiefied-Funking 'Miraculous Masters of Mayhem' fit my mood better than anyone else around. I openly admit I cringe at lots of modern day Pop music and absolutely hate most all forms of Hip-Hop music. Hip-Hop irritates the hell out of me with its banality, mindless lyrics, and lack of Rock Roots, and quite frankly I am too old and young to listen to such de-evolved urbanality.
So, what other choice do I have than to turn to the 1990s-2007 edgy sound of one of the coolest bands I've ever seen or heard? None that I know of. That's why I decided to pay tribute to the Red Hot Chili Peppers today. The most amazing and typically American group of rockers I've ever had the pleasure of following.
John Frusiciante has been with RHCP since Hillel Slovak died back in 1988. Though John left the group around 1992 (to be replaced by Dave Navarro) he returned in 1998 which allowed the band to enter, perhaps, its most productive period.
John recently announced he has left the group again, but made sure he found a suitable replacement for the group with his good friend Josh Klinghoffer. John and Josh have been playing together for years and Josh has been joining RHCP onstage since around 2006.
Josh Klinghoffer was born in 1979. That makes him much younger than the rest of the group (Chad born 1961, Anthony 1962, and Mike-Flea 1962). When John (born 1970) first joined the group he was referred to as "greenie". With Josh being 17 years younger than the rest of RHCP it will be interesting to see what type of younger blood he will bring to the group.
Rare Collector Items Direct from the Archives of Bill Graham Presents
For Serious RHCP and R 'n' R Fans! Handbills, Posters, Backstage Passes, Photos, T-Shirts, plus hundreds of audio-streams of free, old, classic rock-concerts.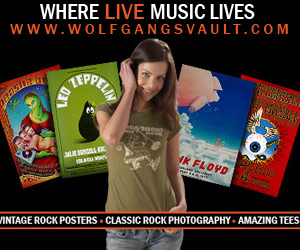 Visit Wolfgang's Vault
RHCP performing as 'bulb heads' at the 1994 Woodstock Festival.
Poster from the Cow Palace - New Year's Eve 1991 Red Hot Chili Peppers Show, with Pearl Jam & Nirvana. A Rare Bill Graham Presentation poster for $48.
Besides having early RHCP posters, Wolfgang's Vault also sells rare photos of the band, plus rare backstage passes to some of their most memorable shows.
September 15, 1989 - Fillmore S.F. poster for $166.
April 7, 1989 Fillmore S.F poster $94.
Wolfgang's Vault is the entire collection of concert promoter Bill Graham's archives of concert art, backstage passes and audio recordings - now made available to rock 'n' roll collectors. WV also has a huge collection of rare full-length-concert audios which they post for free listening at anytime just by clicking onto their website. Here is the link to listen to RHCP's eleven song 1989 concert from the Theater of Living Arts in Philadelphia, Pennsylvania.




See the 'AllPosters Gallery' - Down Below - For Print or Poster Info
Birth of funky, psychedelic, heavy-metal, surf-punk, rap-rock.
RHCP is arguably among the top three bands in rock 'n' roll history, if not THE best ever - based on their combination of creativity, longevity, their band's story, their musical importance and their multitude of fans - the Red Hot Chili Peppers rank high in the annals of Rock History.
As far as supergroups go, t

heir nearly 27 year existence beats the Beatles and is only matched by the Rolling Stones, Aerosmith and U2.
The early teen-aged grouping of Mike Balzary and Anthony Kiedis is remarkably similar to the early friendships of Lennon & Mc Cartney, Jagger & Richards, Tyler & Perry, Bono & Edge.
It can make a person wonder what part destiny plays in the creation of such artistic phenomenons. RHCPs' story is as incredible and as classically rock 'n' roll as any bands that have come before them.
Death, drugs, breakups, breakdowns and lost members fill their history. Yet they continue on into a future we can only imagine they might take us.
A Brief History of the Red Hot Chili Peppers
In 1980, close friends Anthony Kiedis and trumpet playing Michael Balzary (Flea) graduated from Fairfax High & formed the Red Hot Chili Peppers with their schoolmate, guitarist Hillel Slovak. Slovak introduced Balzary to the bass guitar and 1960s & 70s rock'n' roll.
Around 1983, with drummer Jack Irons, they started a music group which would become internationally famous. The RHCP has gone thru many phases in their 27 year history. The success of their first phase, with Hillel Slovak, was phenomenal, but as often happens in the stress-filled world of intense stage performing, drugs crept into the picture and had a big impact on the band member's lives.
Like hundreds of other performers before them (from Elvis, Ray Charles, Jerry Lee Lewis....Joplin, Morrison and Hendrix...up to Axle Rose and Kurt Cobain) the simultaneous fast and slow pace of being 'a star' and having to do stage performances and the need to 'get up to speed' or to 'come back down to earth' often times requires a bit of self-medication....since the human body can't always rise to the occasion of performing before thousands and then, somehow getting one's self to bed and back on the road again without some type of supplemental 'something' to ease the strain. Whether through uppers, downers, bennies or Jack Daniels - the need for self-medication has long been a part of rock 'n' roll. As Memphis Minnie would say..."some do and some don't".
Being a stage performer isn't easy. It requires an amplification of social skills that most people don't usually possess and a super-human ability to accept amplified adoration and abuse. The amplification that is built into rock 'n' roll often causes something to blow-up....be it a 16 inch speaker or the performer's own nervous system.
RHCPs' guitarist Hillel Slovak died from a heroin overdose in 1988. Their drummer, Jack Irons then quit the band. The drummer for the Dead Kennedys took his place and brought in guitarist John Frusciante. Not long after, Chad Smith became the full-time drummer. This became phase two of the RHCP.
RHCPs' 1991 album, 'Blood Sugar Sex Magik', was a huge sucess selling over 12,000,000 copies. By 1992, guitarist John Frusciante developed major problems with the band's fame and his personal self-medication and heroin use. He was out of the band soon after. Thus began RHCPs phase three.
They hired Jane's Addiction guitarist Dave Navarro and released their 1995 album 'One Hot Minute' which sold about 6,000,000 copies. Soon after Dave Navarro was fired. RHCP phase four was about to begin.
John Frusciante had been out of the band for almost 6 years and had big problems with his heroin addiction through most of that time. In 1998 he was able to break his habit. Flea went to see him to ask him to rejoin the band. In 1999 they completed their 'Californication' album which was a tremendous success, selling over 15,000,000 albums. RHCP was back on top. In 2002 they released 'By the Way'.
Phase five of RHCP came in 2006 with RHCPs' Stadium Arcadium double album. On February 12, 2007 - at the 49th Grammy Awards the Red Hot Chili Peppers walked off with the Grammy for 'Best Rock Album' for Stadium Arcadium, the award for 'Best Rock Performance by a Duo or Group with Vocal' for Dani California and the Grammy for 'Best Rock Song' for Dani California.
The year 2010 marks their 27th anniversary in the world of rock 'n' roll.
In 2009 John left the band and Josh Klinghoffer was added. The band has been in the recording studio since last November. Sometime in October 2010, the band begins Phase Six of their long career. They will likely play Las Vegas before the year's end.
September 18, 1998 for $65.
September 18, 1998 for $37 (available in Blue, Gold, Green or Orange).
TOP 25 RED HOT CHILI PEPPERS VIDEO PERFORMANCES
1.
Velvet Glove
- Live from Poland 2007 of a 1999 song (with Josh Klinghoffer, John's replacement on guitar - seen after the :20 mark).
2.
Intro Jam and By the Way
- Live 2003 from Slane Castle (the 1785 castle in Ireland).
3.
Give it Away Now
- 1991 Music Video (overlook the fan's annotation at 2:11 & 2:31) Directed by Stephane Sednaoui - the lyric "there's a river born to be a giver" refers to River Phoenix.
4.
Around the World
- 1999 Music Video. "Ding dang dong dong ding dang dong dong ding dang".
5.
Scar Tissue
- Music Video. "Sarcastic Mr Know-it-all" lyric refers to Dave Navarro. (With a drive back home thru the Vegas desert).
6.
Suck My Kiss
- Music Video.Notable lyric "kiss me hurt me please pervert me".
7.
True Men Don't Kill Coyotes
- 1984 Music Video (RHCP's first single. Audio starts at :20).
8.
Can't Stop
- Music Video (inspired by Erwin Wurm's One Minute Sculptures).
9.
Freaky Styley Fire -
Live circa 1988 version of Jimi Hendrix' 1967 song Fire.
10.
Californication
- Live from Slane Castle of their 1999 song (the lyrics "Cobain can you hear the spheres singing songs off station to station" refers to Kurt Cobain and David Bowie's Station to Station album - the lyric "Alderaan's not far away, it's Californication" refers to the Star War's planet that was destroyed by The Empire implying that our fake, plasticized, pornified, fame and youth worshipping, de-evolutionized society might suffer a similar fate - "celebrity skin...is that war your waging" refers to Courtney Love and her Hole album called Celebrity Skin.
11.
By the Way
- 2002 Music Video (A crazy Taxi driver kidnaps Anthony. After Flea and John rescue Anthony the cabbie then picks up an un-aware Chad as his next ride).
12.
Zephyr 1
- Live from Slane Castle ,
13.
Zephyr 2
-Live from Chile 2002 (the Chile version has better sound, but both versions were included to show John's different ways of playing the song) - be sure to watch the making of this video in the video-player below to hear about their attempts to instill the proper Psychedlic atmosphere to the music-video version.
14.
Out in L.A.
Live 1985 version of RHCP's first song they ever wrote (in 1984) and performed as a group with Anthony as the front-man-singer.
15.
Castles Made of Sand
- Live in Amsterdam in 1989 version of a Hendrix song - a year after Hillel's death-by-overdose (with John replacing him) and Chad on drums (replacing Irons after he left the band).
16.
Higher Ground
- Live 1989 performance on Arsenio Hall's late-night TV show of the Stevie Wonder Song (Flea plays the keyboard riff on his bass) this is the band's second hit-record.
17.
Under the Bridge
- Live 2006 version of their 1991 song (at the T In The Park festival in Scotland) - one of the band's first ballads - was based on a private poem written by Anthony after Hillel's death which was referenced in the lyric "sometimes I feel like I don't have a partner" while he felt distanced from Flea and John's friendship and was shooting heroin "under the bridge" with pachuco street-dopers,
18.
Snow Hey Oh
- Live at Fuji version of their 2006 song about the dual use of cocaine and heroin "So white as snow... privately divided" and the lyric "The more I see, the less I know, the more I'd like to let it go" refers to thoughts about life and the desire to kick heroin.
19.
Charlie
- Special private (not live with a crowd) performance of the 2006 love song about another person, though some fans think it still refers to hard drugs.
20.
Show Me Your Soul
- 1990 Music Video (no explanation really needed).
21.
Otherside
- Live circa 2007 version of the 1999 song - this song gets pretty deep in talking about heroin addiction and possibly suicide as a good solution thru the following lyrics "pour my life into a paper cup, the ashtray's full and I'm spilling my guts...push the trigger and pull the thread, turn me on take me for a hard ride, burn me out and leave me on the otherside...I yell and tell it that it's not my friend, I tear it down and then it's born again...how long will I slide, take it to the otherside...I don't believe it's bad, slitting my throat, it's all I ever had". The similarity between this song and Jim Morrison's lyrics to the 'Hyacinth House' song off of his last album are presented in the Notes Section at the bottom of this page.
22.
Dani California
- Live 2007 Poland version of their 2006 song. This song was RHCP's first single released in four years and was off of their Stadium Arcadium album. This song won the 2007 Grammy for Best Rock Song - the new RHCP's guitarist performs with Joh and the group on-stage during this concert.
23.
Fortune Faded
- 2003 Music Video.
24. Snow Hey Oh - Fuse Televison performance of their 2006 song.
25.

Cereal Song

- the 2001 Heroin song by Bicycle Thief with John Frusciante (Josh Klinghoffer also played with this group). The song reflects the life-loss caused by heroin addiction and is used in this Fan Tribute to Hillel (The Heroin - Cereal Song lyrics can be seen further below).
26.
Aeroplane -
1995. ""I like pleasure spiked with pain...Sitting in my kitchen, I'm turning into dust again". Watch the Making of Aeroplane Video' in the player below for interesting facts.
December 28, 1999 - Cow Palace S.F. for $75. (with the group Bicycle Thief).
RCHP Music from Amazon. Click any slide below for more info.
RHCP Posters from West Vegas.com and All Posters
Behind the Scenes - Making of RHCP Videos
Plus Rare Song and Interviews
1.
Making of
Aeroplane
video
2.
Making of
Zephyr
video,
3-4.
Making of
By the Way
5.
Making of
Otherside
,
6.
Making of
Can't Stop
,
7.
Making of
Californication
,
8.
Making of
Sir Psycho Sexy
,
9-10.
Making
Around the World
,
11-13.
Making
Dani California
,
14.
Making
Breaking the Girl
,
15.
Anthony Kiedis talking about ocean pollution 1990,
16.
Flea and Hillel Slovak performing at 1986 Hendrix Tribute,
17.
Anthony with David Spade doing American Idol skit,
18-22.
Anatomy of a Band Break-Up
(the temporary demise of John's interest and ability). Videos 18-21 show John performing at his finest. His personal problems (with heroin and band relations) show up in videos 22-23. Compare his stage presence in videos 18-21. Then compare them to his downcast performances on Saturday Night Live in 22 and 23. In video 22 he's as depressed as can be and his guitar playing is beyond lifeless. His playing at 2:07 is dreadful. Notice Anthony's frustration. (Compare this playing to his previous playing on Stone Cold Bush).
Watch Anthony at 3:25, He intentionally falls to the floor and purposely kicks John in his rear thigh at 3:35, which causes the microphone to smack John in the mouth. Next watch video 23. The band had an argument backstage and John was ready to walk out.
They take the stage again and John decides to it's time for 'payback' and plays his guitar so slow that Anthony has a hard time singing at this snail-like tempo. Notice Chad's face at 1:18. At the end, when John is supposed to sing the chorus, he instead just screams out "Ohhww" at 3:39 and again even louder at 3:49. At 4:43 Anthony gives John a look that words can't adequately describe. Within a few days John would leave the band and not return for six years.
24.
Weird Al's Yabba Dabba Do Now parody of Give it Away Now.
25.
John's solo video of the Past Recedes (Insightful lyrics: "And then the past recedes,
and I won't be involved, I'd rather stay below, than have you staring up at me. It is nowhere I want to go.
Oh, this business of how long we try to stay alive, Why
to be here you first got to die. So I gave it a try
").
26
. John's Going Inside video. (With more revealing and insightful lyrics about his need to just contemplate life: "
You don't throw your life away, going inside
. You get to know who's watching you, and who besides you resides. In your body, where you're slow, where you go doesn't matter. Cuz there will come a time, when time goes out the window. And you'll learn to drive out of focus.
You don't throw your time away sitting still
").
27-32.
36 minute VH1 Behind the Music with RCHP,
33.
Fight Like a Brave 1987 video with lyrics by Anthony after he'd been kicked out of the band, went to rehab, and was brought back into the band,
34.
Singing Dylan's Sub-Homesick Blues,
35.
Anthony and Flea 1986 interview,
36.
1988 clip from documentary
37.
Circa 1990 interview with John about Hendrix music,
38.
Appearance on Finnish TV,
39.
2006 interview,
40.
Anthony about drug abuse,
41.
Pre-1988 interview with Hillel and Anthony and Flea about their musical influences,
42-43.
MTV's At Home with the Chili Peppers,
44
. 1987 Skate Park Rock (the full 27 minute concert),
45.
One of RHCP's infamous socks performances,
46.
RHCP version of Hendrix' Foxy Lady,
47.
Mid-80s performance of Millionaires Against Hunger,
48.
2007 appearance on the Grammy Awards Show,
49-50.
Anthony interviews Flea and John.
==============================================
Notes:
The Astrological Make-up of RHCP
The astrological make-up of the band is composed of Water and Air signs - which is a very good blend and quite similar to the make-up of The Beatles.
The two full Water signs are Anthony (a November 1st Scorpio) and John Frusciante ( a March 5th Pisces). The two water sign Beatles were Ringo (a July 7th Cancer) and George (a February 25th Pisces). In many ways the two Pisces Frusciante and George Harrison have similar make-ups which cause them to seek peace of mind (often-times thru seclusion and excursions into their own need to find a type of spiritual serenity).
Paul Mc Cartney was born on June 18th which makes him an Air and Water sign cusper (very similar to Chad's October 25th Air and Water cuspation). George also had this same type of Air-Water cuspation, which makes all these similarities quite rare in the world of Rock 'n' Roll.
The one Air sign in the RHCPs is Flea (a Libra born on October 15). The Beatle, John Lennon (born October 9th) was also an Air sign Libra.
This unique astrological blend, along with the highly sexualized energy of Anthony's Scorpio nature is perhaps the key element that allows the members to appeal to such a wide audience thru their composition of full-on rock music and also their emotion-filled ballads.
Misc Notes About Jim Morrison
Lyrics to the Otherside are remarkably similar to Jim Morrison's heroin lyrics and sense of loss over his so-called sexual-stage presence (as referenced in the lyrics to Hyacinth House). I've held a theory for nearly 38 years about this song off the last album Morrison ever recorded. I've heard a lot of conjecture as to the possible meaning of the lyrics Jim wrote to Ray's song, but amazingly no one seems to understand the meaning.
Here's my theory. The Hyacinth House is a term Jim used for doing heroin and his place to shoot drugs. Jim was well versed in Greek mythology, hence his Dionysus type philosophy of pursuing a lifestyle of rituals based on ecstacy and madness. Hence his binge drinking wild ways and his eventual use of heroin.
The lyrics go "What are they doing in the Hyacinth House? To please the lions in this day".
In Greek mythology the Sun-God Apollo was loved by a young Spartan prince named Hyacinth. Zephyrus and Apollo were both rivals in love with the same boy. While playing a frisbie like game of discus with Apollo, the jealous wind-god Zephyr intentionally blew a gust of wind at the discus causing it to strike the boys head killing him. Instead of allowing the boy Hyacinth to die Apollo gave him a re-birth by turning his blood into the forever living Hyacinth flower. The Hyacinth myth, to Morrison, represented the place he went to for both death and re-birth.
The lyric refers to the reason for going to the Hyacinth House - which is "to please the lions (of addiction) this day". He then sings "I need a brand new friend who doesn't trouble me" probably referring both to the syncopats around him and to heroin itself. Then sings "I need someone who doesn't need me" again likely referring to the syncopats and also to heroin...which to a drug addict's mind, the drug needs HIM and not they other way around. A later lyric says "I see the bathroom is clear", which refers to the other heroin addicts finally coming out of Jim's private place to shoot-up. He then sings " I think that somebody's near. I'm sure that someone is following me". This also has two likely references. One could be that 'death is near and following him' The other is that it is the FBI who is still following as they had before and after his obscenity trial for exposing himself on stage. Jim was rightfully paraniod after being convicted and sentenced to six months in jail...though he was still out on appeal.
Never-the-less, Jim feared his subsequent lock-up and moved to Paris to figure a way out of doing jail time. This final lyric of the song is "Why did they take the Jack of Hearts away? It was the only card in the deck that I had left to play". Jim is referring to the Jack of Hearts as his romantic and erotic stage presence...which his conviction for public lewdity forced him to have to abandon. Morrison was saying that his sexualized stage presence was the only thing "card" he "had left to play". Jim is intentionally speaking in a past-tense realization. This is very similar to Anthony saying "slitting my throat (and voice) is all I ever had".
Luckily Anthony worked through his decades long heroin addiction without the need to kill himself. Unfortunately, Jim Morrison decided his only option was to "take it on the otherside" of life and intentionally overdosed in his Paris bathroom - rather than letting the FBI send him to prison for simply being an erotic rock 'n' roll idol. Because I see major similarities between Keidis and Morrison (in their drug use and sexual-stage presence) I feel the long analysis of 'Otherside' was warranted.
Cereal Song Lyrics - Bicycle Thief
I loved them both
But they took my life
They took my friends
They won't give 'em back
Well I want 'em back
Give 'em back now

And what has it gotten me
Just some teeth I can't chew
My favorite cereal with

Being cool and looking good
Keith Richards
And Lenny Bruce
And all of them
Well I give up

Sometimes I'll get sad
Or I'll get mad
About where I should be
And where I am
I wanna go back

But where has it gotten me
I'm 35 years old now
I wash dishes in a restaurant

Well my friend Robert
He can't stop
And his teeth are falling out
And he's living at his mom's
And it's no fun no

I guess I'm lucky I'm alive
Yeah, I'm lucky I'm alive
'Cause I should be dead
I have been dead
But I'm not now no

And what has it got me…
Where has it gotten me
I'm 35 years old now
Work in a fucking restaurant

Well heroin
And cocaine
I loved them both